Innovative architecture and programming, impressive interior and excellent location: this is Neuhaus Kolodvorska.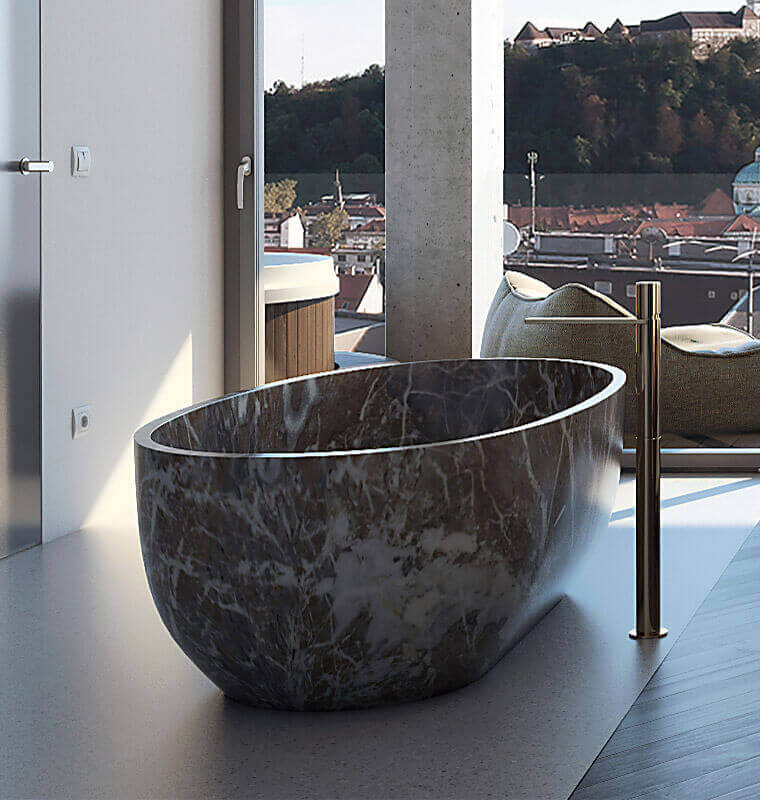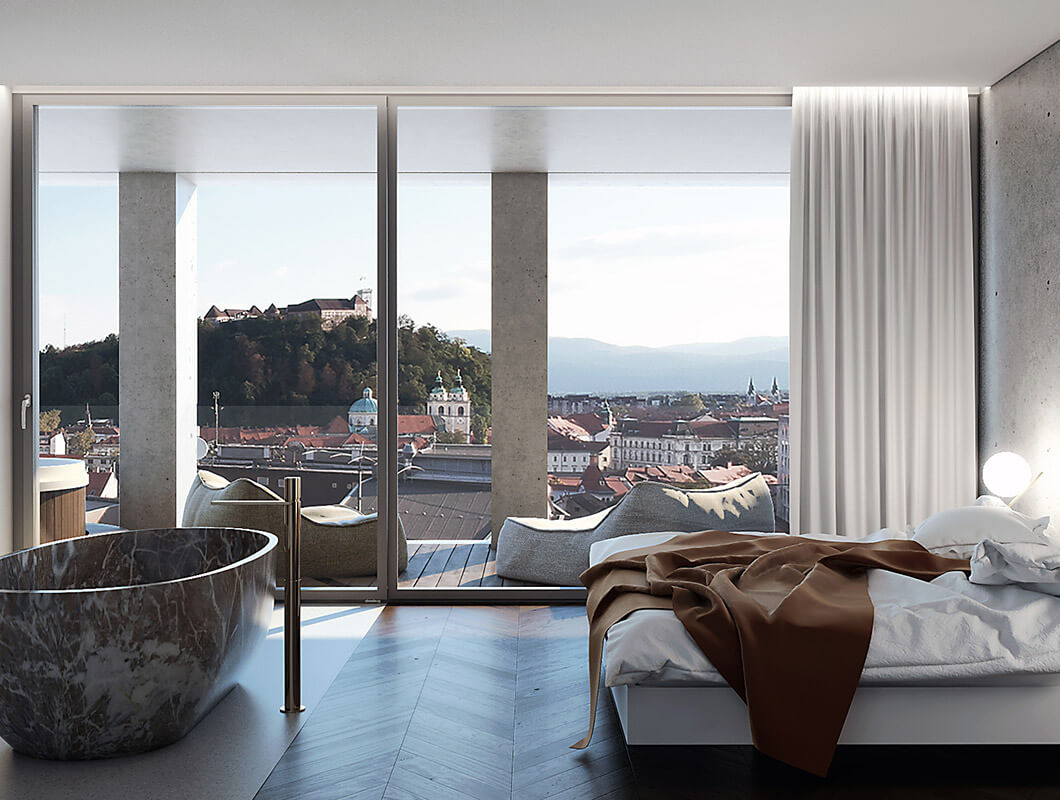 Apartments on 7 floors are distinguished by a great view of the city, functional layouts and supreme materials. They are intended for the buyers, who wish a great deal of comfort, exclusive formation of rooms and privacy. Neuhaus Ljubljana provides dwelling according to the highest standards with secured parking spaces and bike storage, secured cellar and private lift, an addition to external swimming pool and large green planted terrace it offers the residents custom hotel services as well.
Excellent location
Supreme Court: 150 m
Ledina Gymnasium: 200 m
Bus and Railway Station: 250 m
Prešeren Square: 450 m
Central Market: 400 m
Medical Center: 800 m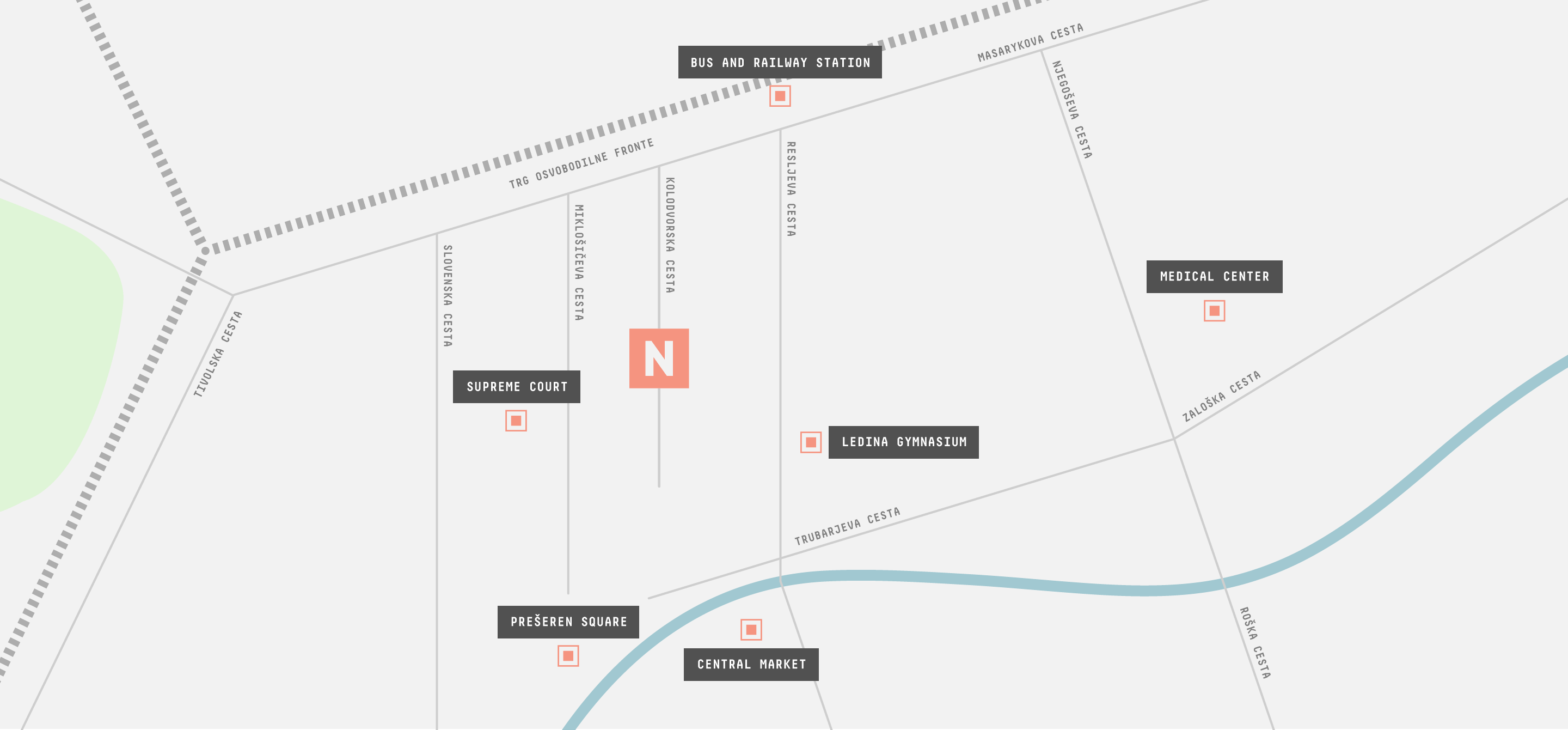 IMPRESSIVE VIEW
A unique place to discover the city from above. Common terrace with a view on the entire Ljubljana basin will take you far away without living your home.
SIGNIFICANT GLASS PANES
All apartments are glazed with continuous, big floor to ceiling windows, which offer a great view to the city and attract natural light into the apartment. Elegant oak floor covering, meticulously laid in the form of French fish bone, fills the home with warm and pleasant atmosphere.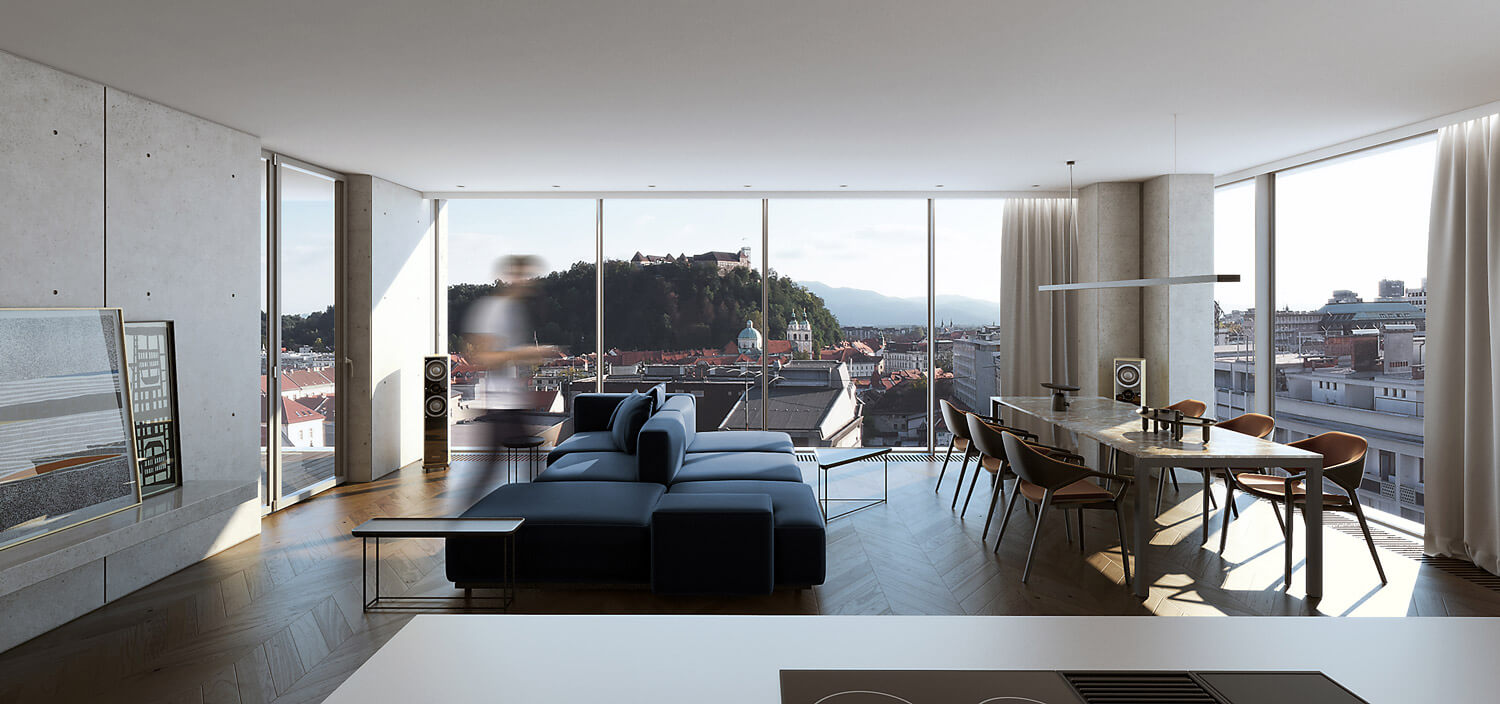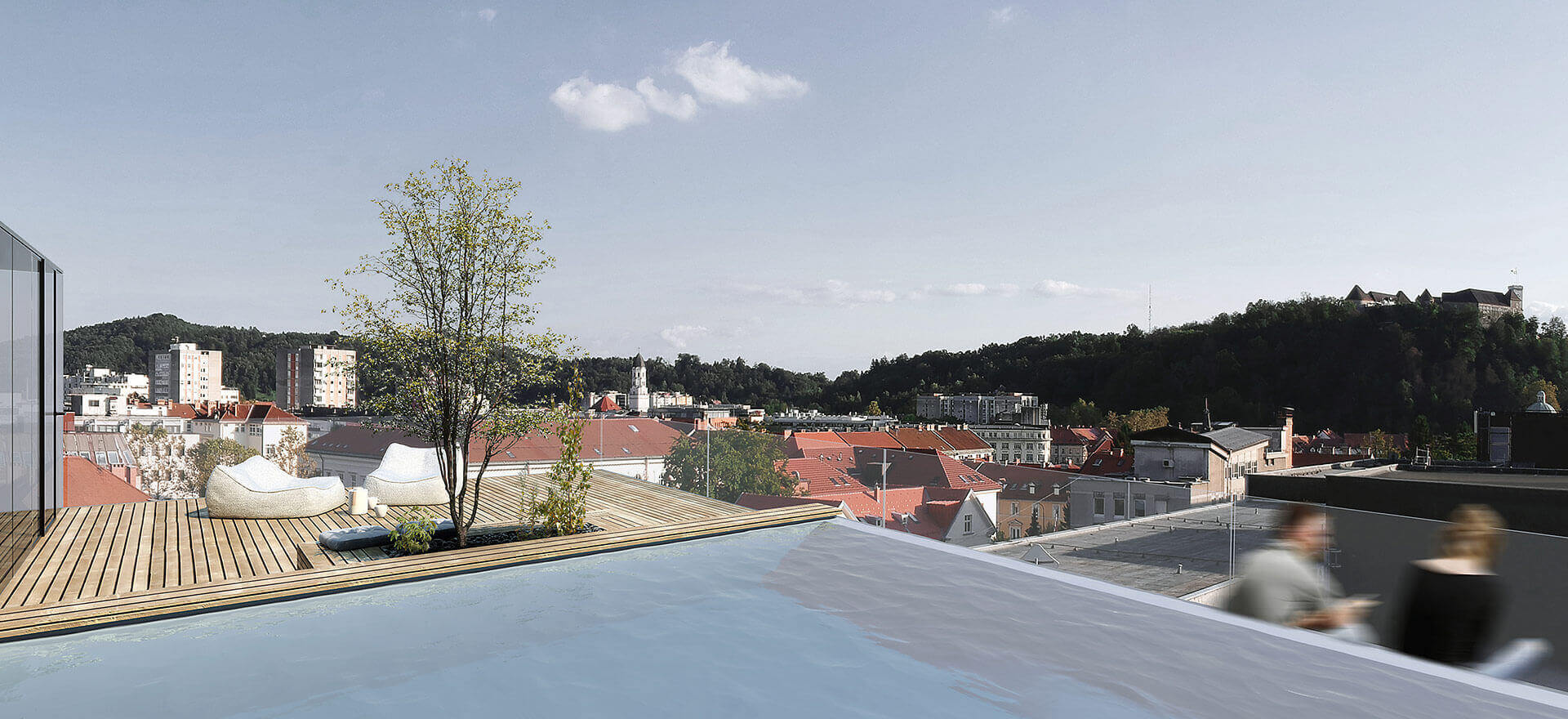 Is there a better place for relaxation of body and soul? External heated swimming pool for supreme pampering, as you can enjoy in a relaxing water massage with a marvellous view on the city.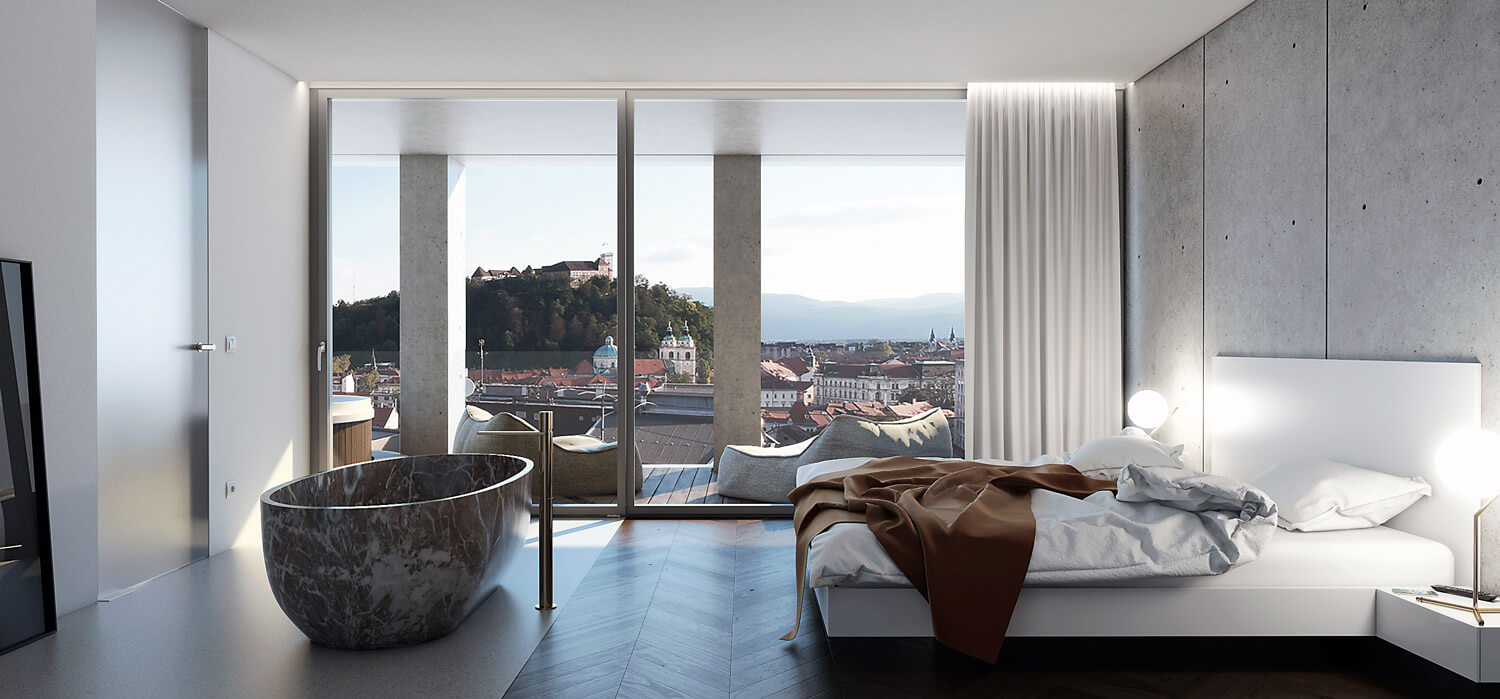 Supreme materials
The apartments boast with supreme material, precision implementation and functional layouts. Modern rooms are carefully designed, with an emphasis on minimalism and simple lines. Unique furniture will stimulate your imagination in every step you make. Freestanding bathtub brings a spark of drama and charm into the bathroom.
UNFORGETABLE EXPERIENCE
Bar/Lounge offers an unforgettable experience to you and your guests. Cocktails, superior quality wines and selected snacks will offer a real cosmopolitan experience. If you become hungry, there is an excellent à la carte restaurant on a floor up.
The decor of the room is glamorous and comfortable and offers an experience, which will make you relax and enjoy the supreme food and beverages. Large glaze panes give the feeling of connection with the city.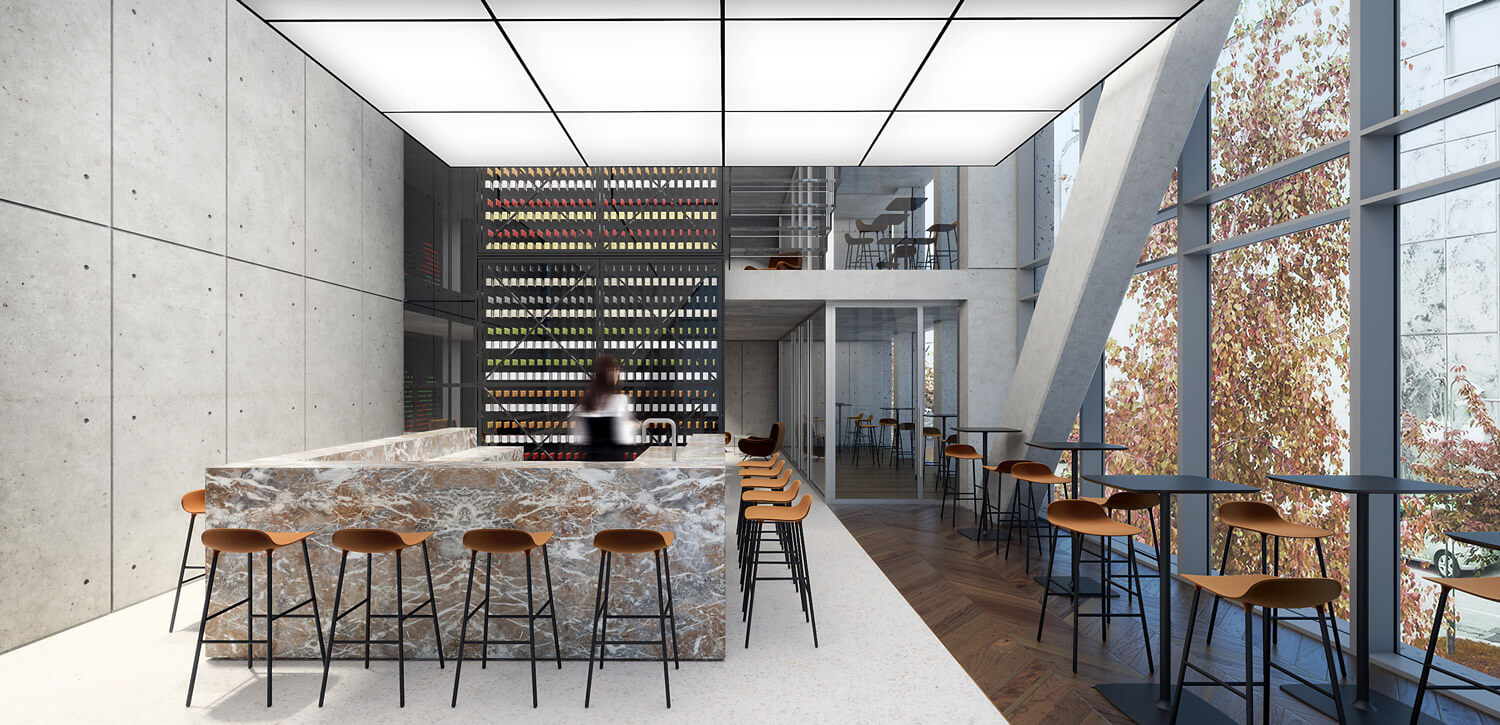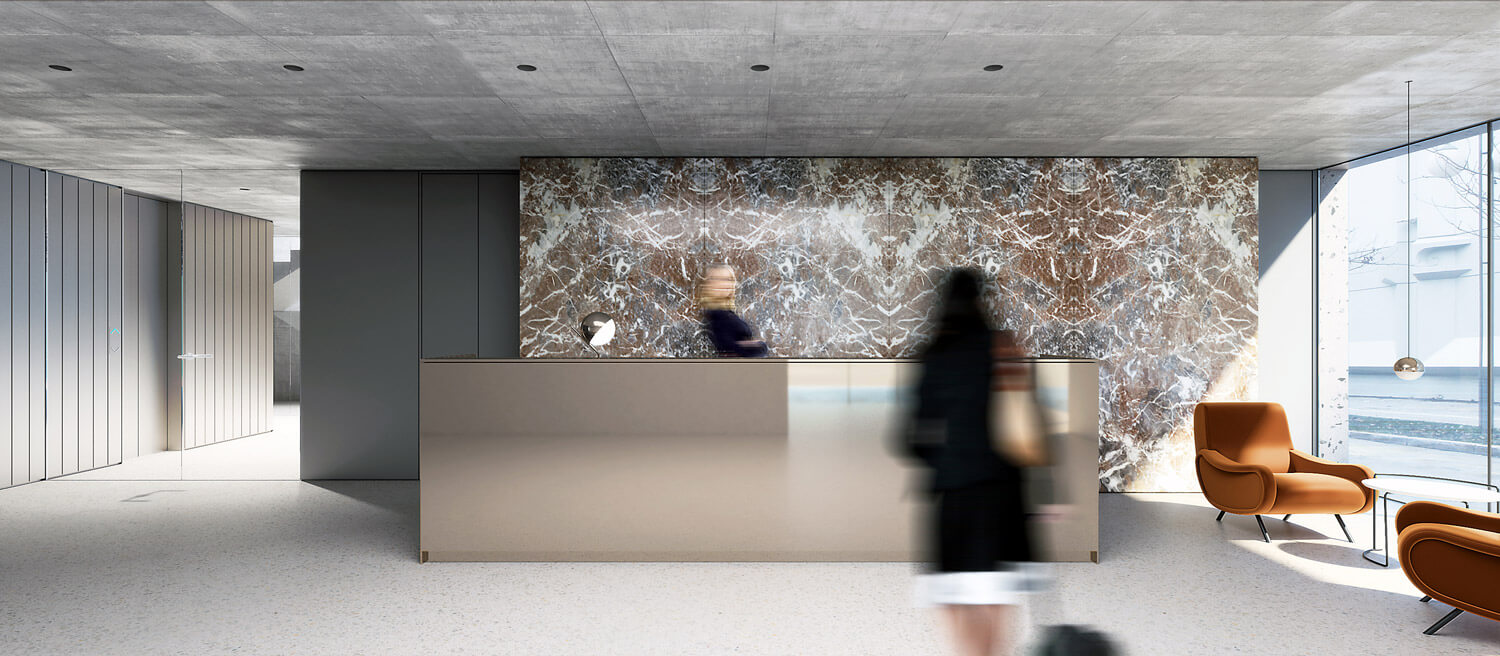 À LA CARTE SERVICES
When you move into your new home, you will receive a menu, where you will be able to choose various services to help you use living in Ljubljana to the fullest. You will have a 24-hour reception desk, security, cleaning, maintenance, valet parking, à la carte restaurant, bar/lounge... available. Everything you need for complete dwelling experience.
Facility: Neuhaus Kolodvorska
Location: Ljubljana, Kolodvorska ulica
Gross floor area: 6043.60 m2
Floors: 2C+GF+10
Development of the project: 02/2017-02/2018
Construction: 2019-
Estimated time of hand-over of apartments: 2020
Investor: CLIPPLUS d.o.o.
Designers: Arhitektura2211, BDP d.o.o and Kosi and partners, d.o.o.; Ana Cesar, Peter Cesar, Ana Kosi, Ognen Arsov, Bine Tekavec
Contractor: Kolektor Koling d.o.o.